Pelican Watch Condominiums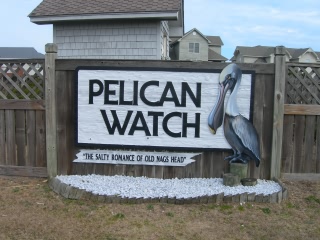 Pelican Watch is an ocean front condominium complex in Southern Shores which consists of 12 buildings with 2 units in each building. To the casual observer, each building looks like a duplex but the ownership is in the form of a condominium. The exteriors of the buildings and the landscaping is taken care of by the home owners association along with the community pool.
If the home you are looking for is not on this page, but you still would like to buy a home in Southern Shores, you will find the rest of the properties for sale spread out throughout this site. If watching the sun rise over the ocean is your thing, we have a section for Southern Shores Oceanfront Homes and a section for Southern Shores Soundfront Homes with sunset views over open water. For the boaters, there is a section for Canalfront Homes in Southern Shores and if your plans are in the future and you just want to get your foot in the door then a building lot in Southern Shores might what's needed to get you started. Browse and enjoy.
This list below contains all of the condominiums for sale in Pelican Watch with all of the real estate companies in the Outer Banks MLS. This list is updated hourly with new properties added and expired and/or sold properties removed. This is the most accurate and up to date list of townhouses for sale in Pelican Watch so check back often. These condos are just the ones for sale in the subdivision of Pelican Watch. For more listings click on the different subdivisions below.
Click on the picture to see the full details of the property listing. If there are no pictures below then there is currently nothing for sale in Pelican Watch.
---
Pelican Watch Townhouses and Condos For Sale
---
The properties below are NOT For Sale. These properties sold recently and are provided to give you an idea of what is selling and for how much. If you are trying to figure out what a property is worth, give us a call and let us help. 800-647-1868
Pelican Watch Townhouses and Condos Sold Recently



28 Pelican Watch Way, Southern Shores
List Price: $549,900
Sold Price: $540,000
Bedrooms-4
Full Baths-3
SOLD AS-IS. FINANCED BY CHASE. Outstanding Ocean & Beach Views await... Lovely decor & your own Private Walkway to the Beach w/Dune Top Deck. This nicely decorated condo is located in
---
These documents may not be the most up to date so, before you use this information to make a decision, you need to verify that these documents have not changed. This should help you get a feel for the character of the neighborhood. With most of our owners living out of state there are a number of developments that do not have an active Home Owners Association and in some instances the restrictive covenants and bylaws are no longer applicable. Pelican Watch Bylaws & Declaration & Pelican Watch Ownership Described
Listed below are all of the subdivisions in Southern Shores. Each subdivision page contains all of the properties currently listed for sale. Each subdivision is updated hourly so if you have a favorite Southern Shores location you can bookmark the page and keep yourself up to date with the real estate market.
Across Ginguite Bay from Southern Shores is the gated community of Martin's Point.